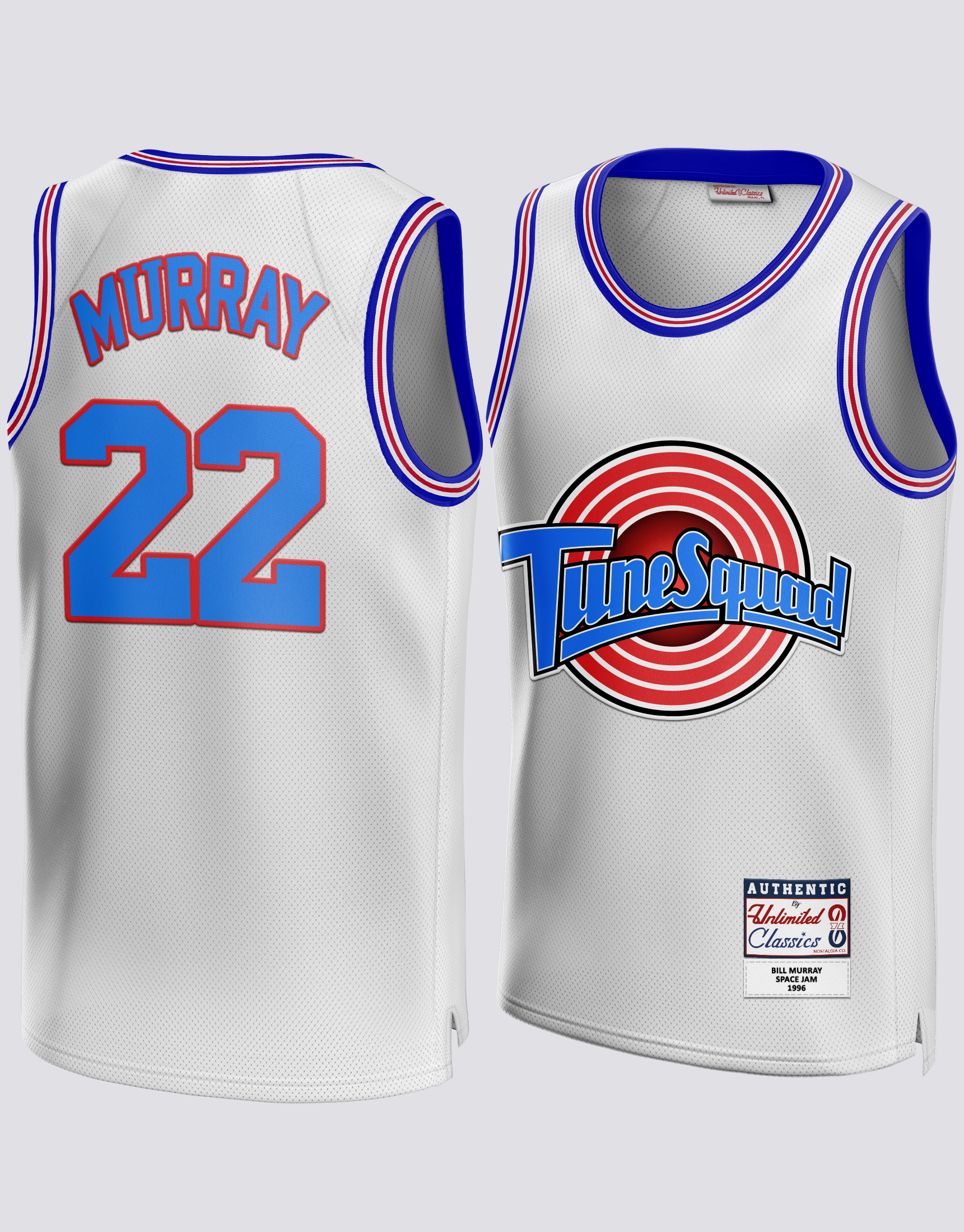 This Bill Murray Space Jam jersey is from the movie, Space Jam. Bill Murray portrayed himself in this film.
An intergalactic amusement park called Moron Mountain from outer space needs to capture the Looney Tunes to serve as new entertainment. Looney Tunes need to win their freedom by a game of basketball. The team called Tune Squad included Bill Murray, Michael Jordan, Bugs Bunny, Lola Bunny, and other Looney Tunes characters. The team of Moron Mountain, on the other hand, is called Monstars which absorbs talent from other NBA players.
This can be considered as a collector's item because Bill Murray played as the fifth member of the team and this is his only basketball movie. 
Bullet Mesh

100% polyester




The player's name and numbers are stitched onto the garment.




The size indicated is US Size, with an additional length of +2.




Authentic Guaranteed by Unlimited Classic
Relax and enjoy wearing our jerseys by following these simple care instructions:
For best results, we recommend washing the jerseys inside out.
Wash them separately and avoid mixing with other clothes to maintain their pristine condition.
If you own a laundry mesh bag, it's a great option to further protect your jerseys during the wash.
Set your washing machine to a low or delicate setting to ensure gentle cleaning.
Our jerseys are machine wash compatible for your convenience.
Take pride in your Unlimited Classics jerseys and maintain their longevity with these easy fabric care steps. You can trust that our garments are designed to withstand regular washing while keeping their quality intact. Feel confident and comfortable, knowing your jerseys are in good hands.
Free standard shipping from our Texas warehouses for orders over $100.
Carefully packed and protected items for worry-free delivery.
Experience fast, reliable, and secure shipping from Unlimited Classics in Dallas. Your satisfaction is our priority.
At Unlimited Classics, we have unwavering confidence in the quality of our jerseys & shorts. We stand behind our products, which is why we offer a full money-back guarantee if you receive a product with any quality issues. Our top priority is your complete satisfaction, and we're committed to ensuring you're 100% happy with your purchase. Shop with confidence, knowing that we have you covered.